Membrane bioreactor (MBR) is a wastewater treatment process that combines membrane filtration with biological  treatment. This innovative technology offers several advantages over the conventional activated sludge process. Among these advantages are higher biomass concentration, eliminating the needs of secondary clarifiers and improved effluent quality.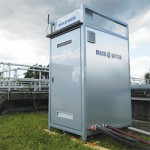 MENA-Water containerized MBR plant transforms sewage to clear and high quality water. The small footprint of the treatment system makes it easy to integrate it in natural, picturesque surroundings.
Membrane system has the core technology inside the MBR which consists of polypropylene plates with a polymeric membrane on each side. The membrane is welded on rigid frame. The module reduces virus and bacteria by 99.9999%. Filter plates are continuously aerated through bubble diffusers to keep them clean. The membranes don't need regular chemical cleaning except one or two maintenance clearings per year.
MENA-Water has developed and manufactures package MBR plants inside ISO shipping containers for up to 1000 m3/day.
Quick delivery and start-up
German quality equipment in stainless steel housing
Compact design
Very good price-performance ratio
Low maintenance and minimum operation requirement
Minimum construction work on site and easy to relocate
Effluent with irrigation water quality (no microorganism, no smell)
CAPACITIES
MENA-Water containerized MBR plants are available in different sizes.
MW–M25
MW-M75
MW-M150
MW-M300
MW-M450
MW-M600
MW-M1000
Capacity
(m3/day)
25
75
150
300
450
600
1,000
Population
(persons)
166
500
1,000
2,000
3,000
4,000
6,600
* Above information is based on: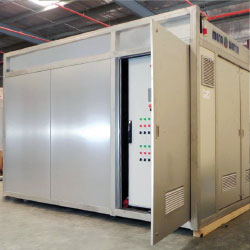 Inlet BOD 300 mg/L
Outlet BOD < 5 mg/L Discharge of 150 liter/person/day
* Higher capacities can be achieved by adding more modules.
APPLICATIONS
MENA-Water offers tailor-made Membrane Bioreactors (MBR) to treat wastewater from different applications.
Municipal wastewater
Educational institutions and healthcare complexes
Hotels and resorts
Parks, recreation and sports centers
Military bases, labor and refugee camps
Building complexes (offices, shopping centers, small township etc.)
Industrial wastewater (food and beverage etc.)
The treated water can be used for the following applications:
Raw human food crops exposed to the recycled water (eg. tomatoes, lettuce)
Livestock drinking (excluding pigs)
Dairy cattle grazing/fodder
Cooked/processed human food or selected crops not directly exposed to the recycled water
Grazing and fodder for cattle, sheep, horses, goats, alpacas etc. (excluding pigs)
Non-food crops eg. woodlots, turf, flowers
Residential uses eg. toilet flushing, washing machine, gardens
Unrestricted public access areas eg. sporting facilities, botanical gardens, water features, golf courses
Open industrial systems eg. industrial laundry, carwashes
Road construction
SCOPE
MENA-Water offers complete package plant including:
Pretreatment
Biological treatment system
Membrane filtration unit
Permeate storage tank
Sludge treatment
Odor control system
Disinfection system
Mobile power generator
Containerized operator room