MENA-Water – Plug & Play Reverse Osmosis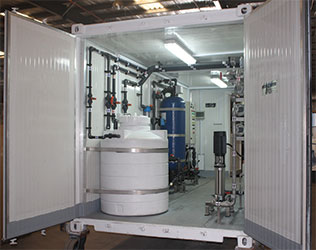 We provide containerized or skid mounted plants. Reverse Osmosis Systems are capable of removing dissolved salts and other impurities such as bacteria, sugars, proteins, dyes and constituents with large molecular weight.
Our plants are designed, engineered, pre-assembled, factory tested with highest quality standards to provide easy and quick shipping, installation in small foot print area and for limited site installation work to save your money and time.
The high quality material and components from leading manufacturers are selected in order to provide quality products or long live time of plant and smooth operation.
Our system is suitable to purify and treat seawater, high brackish, brackish, and even industrial or municipal water when treated with the Membrane Bioreactor (MBR) prior to the Reverse Osmosis (RO).
Standard Features: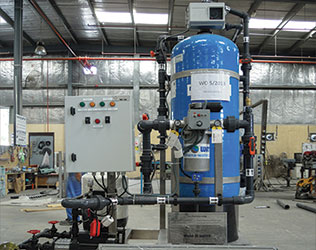 Filtration and chemical pre-treatment
8" & 4″ TFC energy-saving membranes
Membrane FRP pressure vessels
Corrosion resistant high pressure pumps
PLC electrical control panel for auto control from HMI
Panel mounted flow meters, TDS, pH, ORP meter/controller
Low and high pressure switches
Post chlorination and pH adjustment Automatic feed shut-off valves
Pump throttling & concentrate valves
SS316 liquid filled pressure gauges
Corrosion resistant high pressure piping
Corrosion resistant steel frame
Auto-flush system
Blending: feed/product
Sample valves Corrosion resistant steel frame
Auto-flush system
Blending: feed/product
Sample valves
Optional Features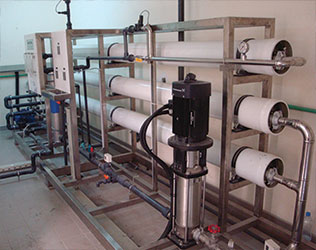 Double pass plants for lower permeate TDS
Higher recovery plants
TDS monitoring/controller on feed line
Clean-in place (CIP)
Additional pre-treatment
Supply with 60Hz possible
Ozonation system / UV sterilizers
Post de ionizer (DI) polisher
Operation Specifications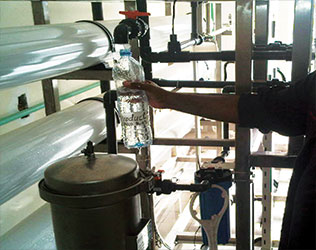 Feed turbidity <1 NTU
Feed SDI : 3-5
Feed water oxidant content
Iron tolerance < 0.05 ppm
Bacteria Free
Operate at higher TDS by lowering recovery
Nominal salt rejection up to 99.8 %
Max. feed water temperature: 42°C
Hardness over 1 grains per gallon requires water softener or antiscalant
Applications: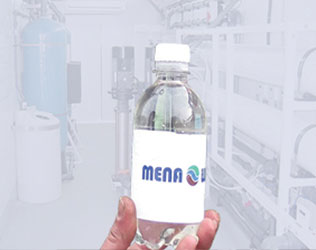 Drinking Water
Food Industries
Industrial Effluent Recycling
Medical (Kidney Dialysis)
Industrial Water Recycling
RO in combination with MBR is the ideal solution for water recycling in many industries.
If waste water is treated with membrane bioreactor (MBR), then it is suitable (SDI <3) to be followed by Reverse Osmosis system (RO) for valuable resource of high quality recycled water to reduce fresh water and disposals costs.