MENA-Water manufactures containerized sludge handling systems.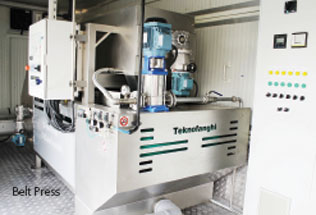 All process equipment is arranged inside one 40' ISO shipping container. This enables us to achieve very short realization time. You will get reliable and tested plants and only need plug and play at site.
For best performance we use the belt press with pre-thickener completed with polymer preparation, mixer, tanks, pumps included cabling and piping, everything pre-installed.
Sludge is pumped, stored and polymer is prepared, dosed and mixed to the sludge flow towards the dewatering machine. Upstream there is the screw pre-thickener which performs the initial solid/liquid separation stage, taking sludge solids concentration from 0.5 -3% up to 5-15 %. The dewatering in the following belt press occurs firstly in the low pressure zone, then in the wedge zone and finally in the high pressure zone where the filter cake is compressed between the perforated cylinder cloth and the main cloth. The discharged sludge cake can reach dry solid contents variable from of 18 to 30% depending on the sludge.
The belt press will handle sludge flow from 2 to 8 m3/hr per single unit
The dry cake will be 18-30% DS due to type of sludge
High capacities can be achieved through modular arrangement
FEATURES
Fast delivery and start-up due to the mobile concept
Quality equipment in stainless steel
Compact design
High packing density
Very good price-performance ratio
Low maintenance and minimum operation requirements
Minimum construction work on site and easy to relocate
APPLICATIONS
MENA-Water offers tailor-made containers to treat sludge from different applications.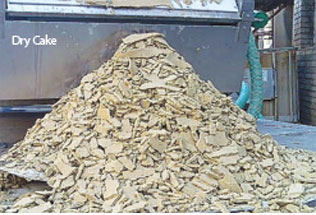 Municipal sludge
Industrial sludge
Mixed fiber, biological, chemical sludge
DRY BAG
For small applications we offer this system using drying bags. The very small footprint of the plant allows best placement.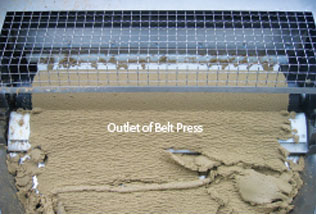 The package plant is completely automatic, with all functions, including sludge conditioning, bag filling and draining cycles, controlled by an integral control panel. The automatic filled bags also act as strong containers for transport of the dehydrated sludge to the disposal point.